It's great to see Southport officially recognised by the State Government as the Gold Coast's 'new' CBD. What a great story. It's got everything but Marty McFly.
In Robert Zemeckis's classic 1985 sci-fi comedy Back to the Future teenager Marty McFly (Michael J Fox) is sent back in time in a DeLorean sports car time-machine to re-visit his sleepy mid-west home town in 1955. In the early 1980s when I opened a law firm with my old mate Johnny Witheriff, I wasn't quite driving a DeLorean, but my 1963 Wolsley 6 was almost as plush, and back then in the future Southport was already the 'big smoke' of the Gold Coast.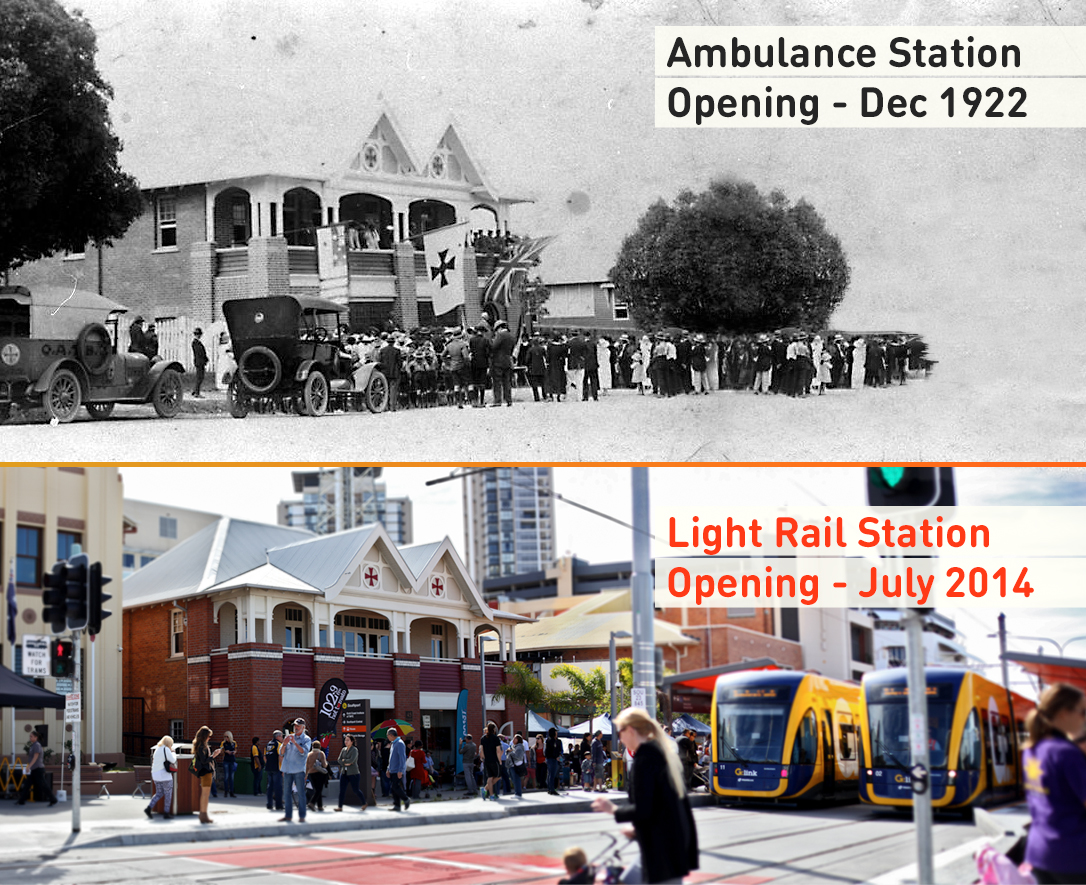 Southport Light Rail Station Opening – July 2014
In those days you could get a fancy frothy cappuccino coffee in Daltons Arcade, a flash haircut at Luigi's, a nice pair of Bermuda shorts and some snappy long socks at Overells Menswear, and maybe even something sparkly at Birkbecks the jeweller. The courthouse, Council Chambers, Pacific, Cecil and Queens Hotels, the Huntington businessmen's club, the prestigious Southport School, the busy Sundale Shopping Centre, the main police lock-up and the police station were all right there. Southport was every bit a bustling CBD.
Over the years it lost a little of its shine, and there has been some competition from a few new kids on the block. But now it's back, bigger and better than ever, thanks in no small part to the opening of the new Light Rail, which connects Southport so conveniently with the tourist towns of Broadbeach and Surfers Paradise to the south, and the new Gold Coast Hospital precinct and Griffith University to the north. I'm proud to say my former business partner John Witheriff, as Chairman and driving force behind the Light Rail project, had a great deal to do with all that, and with reinstating Southport to its rightful position as the city's CBD.
In the last scene of Back to the Future the DeLorean soars into the sky as Marty's friend Doc declares "Where we're going, we don't need roads." Just like Marty and Doc, with billions of dollars of investment pouring into the north end of the Gold Coast, and the 2018 Commonwealth Games just around the corner, for Southport the sky's the limit.
Click here to view related article.
Chris Nyst
Gold Coast Lawyer, Novelist and Film Maker